E. & J. Gallo Winery's Dry Creek building awarded prestigious leed® Gold Status by U.S. Green Building Council
11.21.2017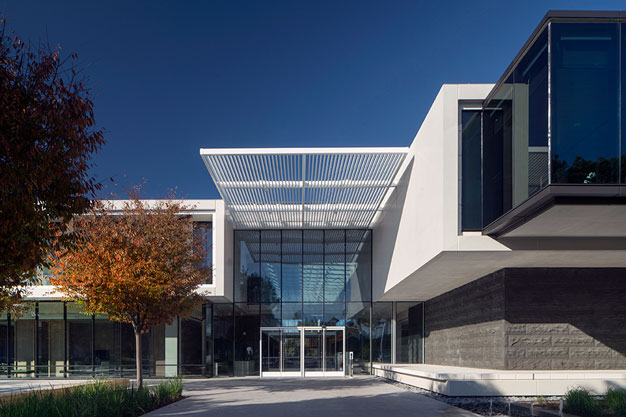 MODESTO, Calif. November 21, 2017 – E. & J. Gallo Winery (Gallo) announced today that its newly constructed Dry Creek Building on its Modesto campus has been awarded the Leadership in Energy and Environmental Design (LEED®) Gold certification by the U.S. Green Building Council (USGBC).
The LEED rating system, developed by the USGBC, is the foremost program for buildings, homes, and communities that are designed, constructed, maintained, and operated for improved environmental and human health performance. The USGBC scores buildings in seven categories including innovation in design, water efficiency, sustainable sites, energy and atmosphere, materials and resources, indoor environmental quality, and location and transportation.
"We are honored that our new Dry Creek Building has received this prestigious recognition. The Dry Creek Building embodies our company's long-standing commitment to environmental responsibility, and our desire to provide a collaborative and best in class workspace for our employees," said Joseph E. Gallo, Chief Executive Officer and President of E. & J. Gallo Winery."
Gallo's Dry Creek Building was completed in August, 2016 and features floor to ceiling windows and expansive skylights, providing occupants with an abundance of natural light. The 146,000-square foot building offers a variety of large and small conference rooms to accommodate meetings of any size. Two retreat rooms designed as quiet zones for focus and concentration also provide employees with a creative and inspiring space for working. Additionally, the building features a wine tasting area, a café, and a variety of outdoor patios for employee events and gatherings. The building also offers indoor bike storage, as well as complimentary electric vehicle parking.
"Achieving LEED certification is more than implementing sustainable practices. It represents a commitment to making the world a better place and influencing others to do better," said Mahesh Ramanujam, President and CEO, USGBC. "Given the extraordinary importance of climate protection and the central role of the building industry in that effort, Gallo demonstrates their leadership through their LEED certification of the Dry Creek Building."
To learn more about Gallo's commitment to environmental sustainability, or to view open jobs, please visit www.gallo.com.
About E. & J. Gallo Winery
Founded in 1933 by brothers Ernest and Julio Gallo, E. & J. Gallo Winery is a family-owned company and global wine and spirits industry leader. The hallmark of E. & J. Gallo Winery is their lasting commitment to sustainability and quality, and consistently providing wine and spirits for every occasion. Gallo's range of offerings includes Apothic, Barefoot Wine, Black Box, J Vineyards and Winery, La Marca Prosecco, Orin Swift, New Amsterdam Vodka, RumChata, High Noon, along with partnerships with esteemed family-owned brands such as Allegrini, Argiano, The Dalmore, Diplomatico, Don Fulano, and Grupo Montenegro.